Take on a swimming challenge like no other! During September and October swim your way to funding life-changing dementia research in your local pool, lido, or lake.
Challenge yourself to swim 10km, an epic 30km, or a distance of your choice between 1 September and 31 October 2021.
Your swims will help fund vital research breakthroughs. Now that's a reason to take the plunge!
Sign up
Make a splash for dementia research
If you raise £100 we'll send you an Alzheimer's Research UK swimming cap, and if you raise £200 you'll get an Alzheimer's Research UK technical tee – to help you to look like a pro on your way to the water!
However much you raise, know that every penny will help power our mission to find a life-changing breakthrough in dementia research. 
Sign up now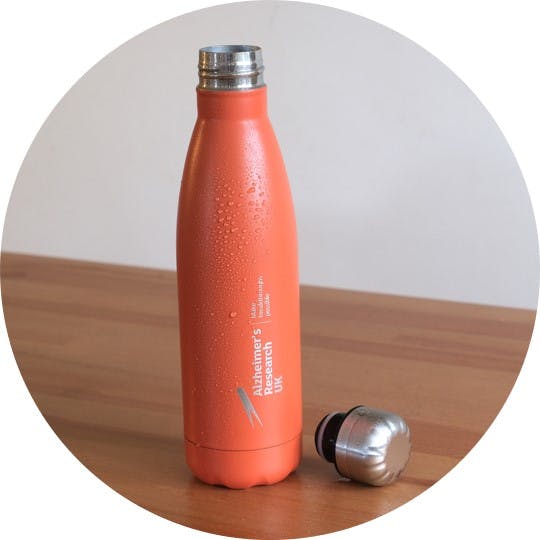 Alzheimer's Research UK water bottle
Stay hydrated with our metal water bottle whilst also reducing the amount of plastic you use - win win!
Dive in for that feeling…
When you boost your wellbeing
1
Getting in the pool is proven to release endorphins and reduce stress – and it's a great way of switching off. 
When you keep fit and active
2
Swimming is a great form of all-round exercise for every age and ability. You'll feel yourself get stronger!
When you help make a difference
3
1 in 3 people born in the UK this year will develop dementia in their lifetime. Swim for dementia research today.
Show your support on social media
Add an overlay to a picture of you to show your friends you're helping to bring about life-changing breakthroughs.